Mini LEGO Technic Tank Patrols Your Desk Under ESP32 Control
We probably don't need to tell Hackaday readers that LEGO isn't just for kids; We've seen many live blueprints in a colorful brick building, and let's not even get started with the Mindstorms builds we've seen over the years. But while LEGO (and the Technic product line in particular) are great for rapid prototyping and building projects, off-the-shelf electronic components aren't quite right. That's why [Jason Kirsons] is working on bridging the gap between Lego parts and "real" parts.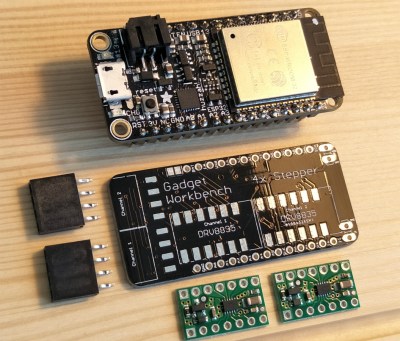 His Lego Technic tank is a prime example of this principle. While the design of the tank itself is standard for LEGO, the electronics inside are completely depleted. With an Adafruit Feather ESP32, a custom motor controller board, and a Technics 3D printed NEMA 8 stepper motor adapter, this little tank does a lot more than you might expect. While this project is more of a proof of concept than anything else, the techniques [demonstrated by Jason] might be something to consider the next time you're building the best of Billund.
[Jason] Feather chose the ESP32 because of its small size, but if you're not looking to cram everything into such a small space, you can get away with a regular board. Obviously, if you choose another card, you won't be able to use its electronic card, which is connected to the pen and contains four Pololu DRV8835 drivers.
The most practical component of this project is [Jason]'s work on designing an adapter plate that allows NEMA 8 motors to be used with LEGO Technic parts. He's installed adapters on Thingiverse for anyone looking for a quick fix to give their tech (technical terms) creations a little more oomph .
Lego has a long history with hackers and manufacturers. We've looked at some great projects built using the popular builder, and we see no signs of slowing down in the future.
[Thanks to Adam for the tip.]
Showcase Live Box: Crobits Kickstarter - STEM toys for kids of all ages