In the ever-evolving smartphone market, Xiaomi has established itself as a major player, offering devices with great features that don't break the bank.
The Xiaomi Redmi Note 12 series, the latest from Xiaomi, continues this tradition with impressive features and capabilities that will satisfy all users.
Improved performance
The Redmi Note 12 series offers exceptional performance, ensuring smooth multitasking, gaming and app usage. Each device has a powerful MediaTek or Qualcomm Snapdragon processor with plenty of RAM under the hood. Whether users are browsing the web, editing photos, or running data-intensive apps, these smartphones provide the power they need to handle it all.

A wonderful screen
The Redmi Note 12 series has bright and exciting displays with a screen size of 6.5 to 6.8 inches. With FHD+ or QHD+ resolution and AMOLED or IPS LCD panels, these devices offer crisp and sharp images, accurate and vivid color reproduction and excellent contrast levels. Whether the user is watching a movie, playing a video game or browsing social media, the Redmi Note 12 series offers a very impressive visual experience.

Rethinking smartphone photography
The cameras in the Redmi Note 12 series set these devices apart from the competition. Users can take beautiful photos and videos with an advanced camera system that includes multiple lenses, including wide-angle, ultra-wide-angle, macro and depth sensors. It allows users to explore their creativity and capture every moment with precision.
In addition, features such as AI scene detection, night mode and advanced image processing algorithms ensure excellent results in various lighting conditions.
Long battery life
Users can say goodbye to frequent charging thanks to the powerful battery of the Redmi Note 12 series. Equipped with high-capacity batteries, these devices can last a whole day, even with intensive use.
In addition, 33W to 120W fast charging ensures users can plug in and spend more time using their devices, and the Note 12 Pro Plus 5G can charge a phone in less than 20 minutes. All three devices are equipped with a high-quality 5000 mAh battery, which provides more power than many leading devices in the industry.
Lots of storage options
The Redmi Note 12 series offers ample storage options, allowing users to store all their photos, videos, apps and files without worrying about running out of space. Users can choose between different storage options or expand the storage with a microSD card to provide enough space for all their digital content.

Beautiful and elegant design
With an elegant and premium design, the Redmi Note 12 series exudes sophistication. With slim profiles, bezel-less screens and durable construction, these devices are comfortable to hold and visually appealing.
Some users prefer a classic design, while others prefer a more modern aesthetic, so the Redmi Note 12 series offers options for every taste. They also come in a variety of colors, including grey, white, mint, blue and black, depending on the model.

Increased security
Another area where the Redmi Note 12 series stands out is improved security. The devices have advanced biometric authentication options, including fingerprint sensors or advanced facial recognition technology.
These smartphones offer many security options and updates that keep their devices safe and ensure that only the designated user has access to their personal information.

Customizable user interface
Through MIUI, the Xiaomi Redmi Note 12 series offers a customizable user interface that allows users to tailor their smartphone to their preferences. From themes and icon packs to gesture controls and system-wide dark modes, the suite offers a wide range of customization options. This ensures that everyone can customize their device to make it unique.
5G connection
In terms of connectivity, the Redmi Note 12 Pro + 5G supports 5G connectivity. This provides faster internet speeds and improved network performance, which improves the overall mobile experience.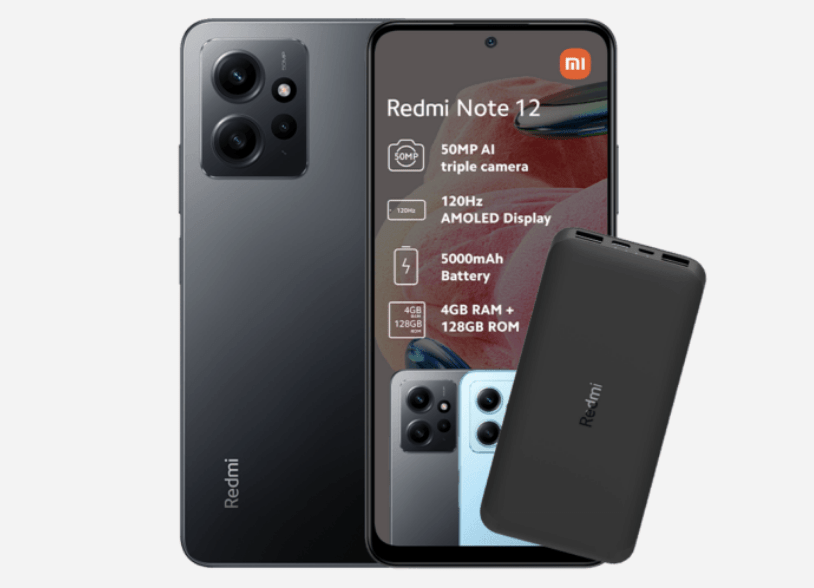 Excellent vocal abilities
Devices of the Xiaomi Redmi Note 12 series provide excellent sound quality through built-in speakers or headphone output. In addition, Redmi Note 12 Pro features Dolby Vision and includes Dolby Atmos surround sound technology to provide users with first-class immersive sound, whether they are listening to music, enjoying multimedia or playing video games.
value for money
Xiaomi devices, including the Redmi Note 12 series, often offer excellent value for money. It's packed with industry-leading features, top-of-the-line specs, and a very competitive price.
Wide availability
Xiaomi is known for its wide availability in many regions of the world. This means that users can find the Redmi Note 12 series everywhere, easier to buy and, above all, easier to repair in case of damage.
Redmi Note 12 Pro, Redmi Note 12 Pro Plus 5G and Redmi Note 12 are already available on Vodacom.
Redmi note 12 Pro in all colors! #Shorts